If you are interested, you can see what is going on in Rovaniemi at any time of the day or night at all year around via web cameras, placed on several places in the city and at the Arctic Circle. Even Santa Claus has his own web camera! On the map you can also view the panorama pictures by changing the viewing angle by holding the mouse button down and moving the cursor horizontally.
The camera on Lordi Square shows the life in the city and from the place where several major events take place. Specially around Christmas you can follow the Christmas market going on on the Square. (In case you do not know what Lordi stands for: Lordi is a monstrous rock group that took part in the Eurovision Song Contest in May 2006 with the song "Hard rock Hallelujah", and won the whole Contest. The lead singer of Lordi; even called Mr Lordi himself was born in Rovaniemi. The winning of this Contest is such a big thing in Finland – it never happened before – so the city of Rovaniemi decided to name the main square in the city the Lordi Square after this group.)
The camera at the City Hall shows the buildings of architect Alvar Aalto and the park around the City Hall, the Library and the Lappia House.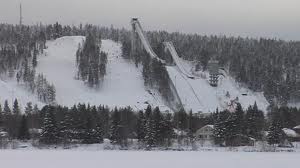 The two Ounasvaara cameras show skiing conditions for the ski stadium and the ski jumping arena during changing seasons.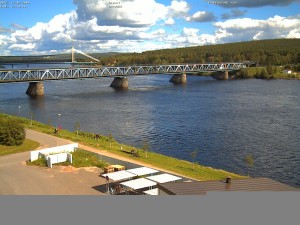 The camera at the church shows a view over the Kemijoki bridges on the Kemijoki river and the camera on Rovakatu shows a view from one of the main street in Rovaniemi.
I myself used to check out the views over the city before I even visited Rovaniemi for the first time. After I had moved there, I once made a phone call while standing on the Lordi Square and the one I phoned could open the computer and see me standing there.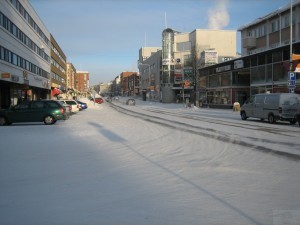 All over Lapland there are also road cameras, ruled by the Liikennevirasto, the Finnish Transport Agency, in Finland, so you can check the conditions of the roads if you are going to travel in Lapland. Just click on a camera where you are going and you will see if there is a lot of snow or not on the road. This is how the road looks in Rovaniemi at this very moment. Exciting or what? Almost like you visit Rovaniemi yourself.