In my post Where to eat a good meal in Rovaniemi I mentioned some of the restaurants where to have a good meal in Rovaniemi. Of course those were not all; there are many more restaurants also worth mentioning. That is why I continue my restaurant grand tour here.
The cozy restaurant of City hotel; MonteRosa, is one of my favorite restaurants in the city center of Rovaniemi, on Pekankatu 9. The City hotel is a 4-star hotel with 90 rooms. On the first floor you find the atmosphere-rich MonteRosa restaurant, where the friendly staff prepares and serves a variety of local but also international culinary delights. (Some of them look a bit suspicious….though, as on the picture below… but very tasty, indeed)
Outside the restaurant, on the pedestrian street, there is a special waiting pole for reindeer, where the sami can leave his reindeer while he is inside dining.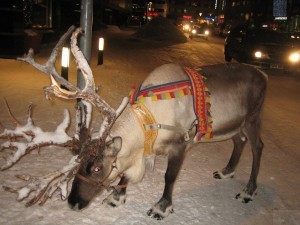 Also worth mentioning is that you can always book your adventure safaris in the hotel receptions of Rovaniemi. If you want to go for a reindeer or husky safari or on a snowmobile safari you just contact the hotel reception. All transportation, warm clothes and other equipment will be taken care of for you. You just have to show up in the lobby in time to be picked up.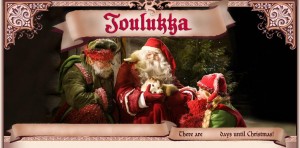 The restaurant Frans & Chérie Bistro  in hotel Vaakuna in Rovaniemi belongs to a chain of restaurants all over Finland and the menu is very long….with both meat and fish courses and many delicious desserts like ice creams and Crème Brûlées. Friday is a great day to visit the restaurant, because it is The Mussels Day. Don't be late, because the mussels are on offer only as long as there are any left. Their Roast reindeer with red wine sauce will definitely melt in your mouth! Last time I visited I had the fish course Grilled salmon from the north of Lapland. Delicious! You can also get fried pike-pearch from the local waters.
Hotel Santa Claus with the restaurant Gaissa  does not provide menus in English, but they serve traditional Finnish and Lappish special delicacies with modern twist. The dishes are made of local ingredients, using traditional recipes. Gaissa has also a special Rovaniemi menu with traditional delicacies from Rovaniemi area. The menu changes seasonally, as it is made of the ingredients of the current season.so I do not feel like mentioning it here. Bar & Grill ZoomUp in the Santa Claus hotel serves a delicious lunch buffet every week day.
In the main building of hotel Arctic TreeHouse Hotel near SantaPark Christmas amusement park is the restaurant Rakas. Rakas serves local food with love. On their menu you will find traditional Lappish delicacies like reindeer, fish, mushrooms and wild berries prepared with a modern twist. The cosy atmosphere of Rakas will tempt you to stay a while longer enjoying the delicious hot and cold drinks by the fire.
In the heart of Rovaniemi center is the cosy restaurant Street Bistro Roka. The menu is strongly influenced by the United States, Italy and Finnish Lapland – Roka provides a friendly, personal and intimate 25-seats, neighborhood restaurant. The food is made from the finest ingredients, chock-full of authentic & original flavors and accompanied with refreshing and sophisticated beverages.
Lapland Restaurant Kotahovi is located in Santa Claus Village, in the middle of Santa Claus Reindeer farm. The restaurant is made in a shape of traditional Lappish "kota" hut. The family that runs this restaurant have been reindeer herders for generations. The restaurant has reindeer decorations all over. Here you can try dishes made from quality Lappish ingredients, such as reindeer, salmon, mushrooms and arctic berries.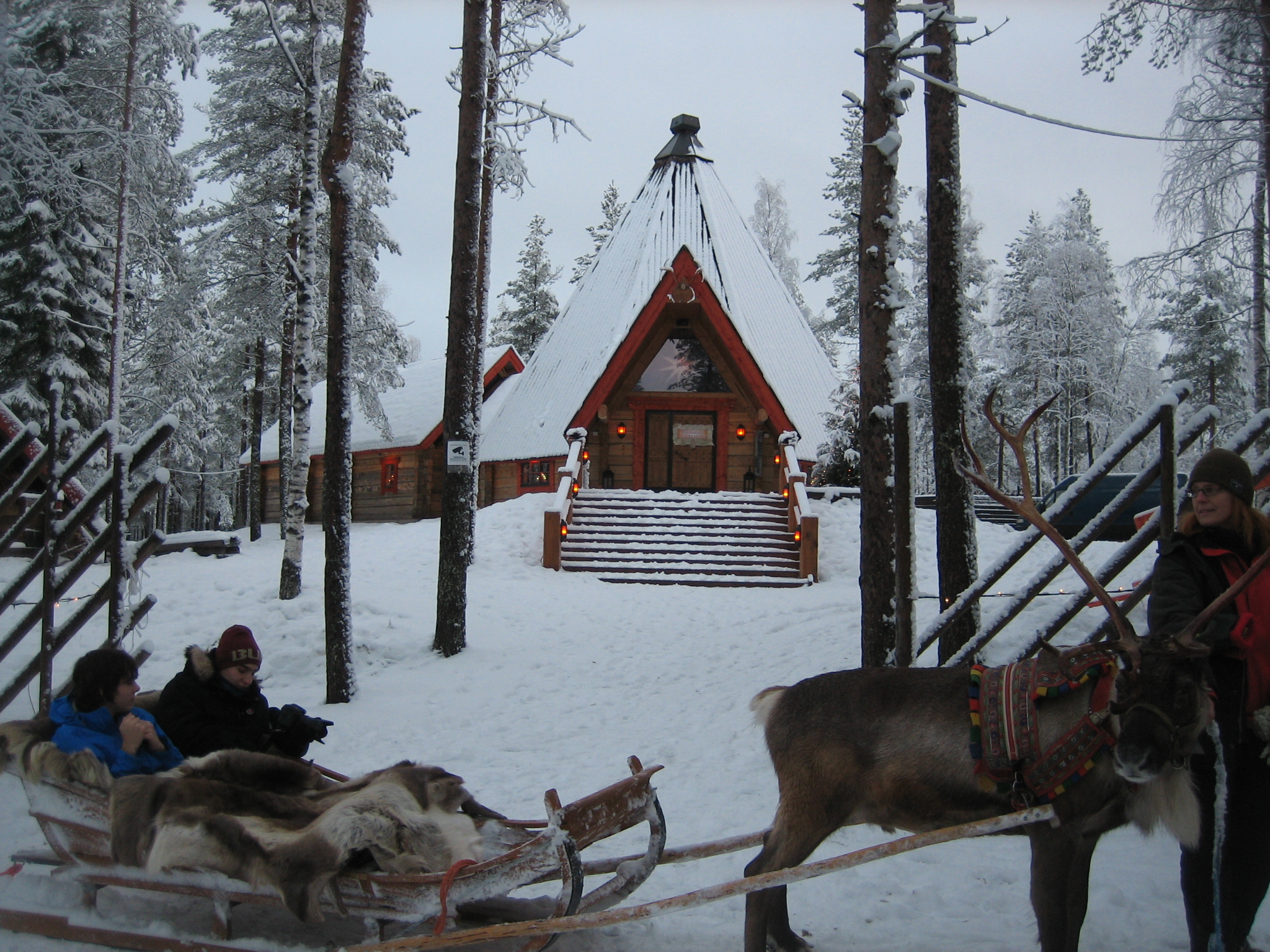 Finally, I want to mention the DVD with Santa Claus' secrets. You can buy it online from Santa's shop or from the shops on the Arctic Circle during your visit in Rovaniemi. The DVD reveals many secrets of Santa that you so far never even heard of. On the DVD there are options for at least 8 languages.