The sun eclipse last Friday (on March 20th) got me inspired to tell you about the sun in the Sami history.
Sami call the sun Beaivi or Beaivvás. The sun is one of the most important spirits or Gods of the Sami. In drawings on Sami drums there is often Beaivvás in the middle of the drum. The Sun can be drawn round, as we are used to see it, but also the four-cornered drum-picture with reigns of light drawn in four directions is interpreted to be the Sun.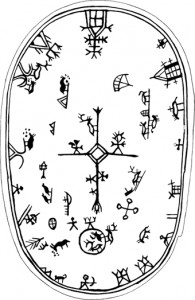 The Sun is always important to the Sami. In Enontekiö in the north of Finland in old times a cake was baked of meal and reindeer blood. At the end of winter, this cake was placed outside against the wall, as an offering to Beaivvás. This offering was thought to bring good fortune in reindeer herding. The Sami asked the Sun to shine to give light to wanderers in the mountains, to seafarers and to herders searching for lost reindeer.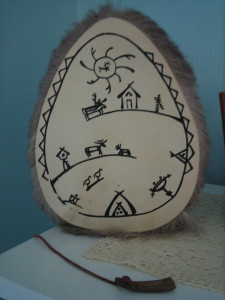 There is also a Sami story about a woman named Mariska, and a priest who tried to convert Mariska to Christianity.
The priest says, "My poor child, you are now the only pagan left in this region". Mariska agrees and turns around and sends a kiss to the Sun. She answers, "When you are old like me, you will like the warm Gods". The priest continues: "But what happens, when the Sun disappears in the winter, behind the clouds?" "One of Beaivvás´ sons sits upon my wood oven. I give him firewood to eat.", replies Mariska.
"I thought that wood is also one of your Gods. I have seen how respectfully you treat the bark and use it in your handcrafts. How can you put your God in the fire?", asks the priest. "Only a God is worthy to be food for another God", answered Mariska, and then she explained that she prefers a God that can be cut down, like a tree, instead of a God she cannot see nor touch.
The story tells Mariska eventually turned into Christianity, but she still continued to worship the Sun.