The tourists visiting Rovaniemi want to buy something unique from Lapland and Rovaniemi to take home with them. I listed some of the most popular products earlier in my blog. In this post I want to continue listing interesting Lappish souvenirs.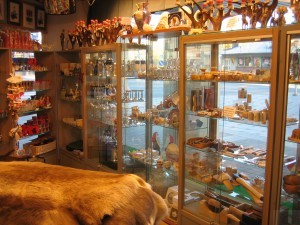 One local trade mark with good quality and products made of traditional materials is Lauri Tuotteet. You can find them in any souvenir shop in the city and also in Santa Claus village at the Arctic circle, but you can also visit the old Lauri shop on Pohjolankatu in Rovaniemi. The Talisman jewellery you can also find in the Rovaniemi Tourist Information and in the Culture house Korundi or buy them from the Rovaniemi web shop. I like the Lauri products very much and I have bought many of them for Christmas gifts to my family members over the years. Kitchen wares with handles made of reindeer antler are very beautiful.
The history of Lauri Tuotteet begins with the goldsmith Johannes Lauri. He came to Rovaniemi from Southern Ostrobothnia (about 600 km south of Rovaniemi) in the 1920's.  In 1924 he started up a knife factory on Pohjolankatu in Rovaniemi, where you can visit Lauri Tuotteet Oy also today. The production and sales of handcrafts that Johannes Lauri established in Rovaniemi nearly 90 years ago continues onward. Lauri's business history is unique and the longest of its kind in Lapland. Lauri Tuotteet Oy manufactures traditional Lappish handicrafts. The main raw materials are reindeer antler and goat willow's root. Those are also the materials for the knife handles. All knives are handmade. Individual Lauri-knives are desired for collections and highly valued gifts and they are absolutely beautiful with the combination of reindeer antler and wood.
About twenty people worked in the Lauri factory during the busiest years. The factory was unfortunately destroyed during the Lapland war in 1945.
Immediately after the war, the manufacturing of the knives and other reindeer antler products started again. Along the years, new products has been designed. For example products made of curly birch. Also new knife and jewelry designs were introduced after the war. Objects made of reindeer antler are decorated with pictures of genuine sámi art.
Other Lauri products are the felt boots and the reindeer leather mittens

.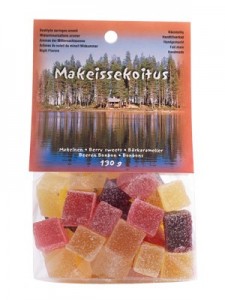 If you want some sweet tastes Annelin yrtit ja karkit (Anneli's herbs and sweets) can offer you nice marmalade made of the Lappish cloudberries, cranberries and blueberries. They manufacture also teas, syrups and spices. These products are easy to take home with you and very tasty, too!
Traditional Reindeer Jerky is one of the best treats of Nordic cuisine. In the old days without refrigerators it was used by the Sami people to survive. Now it has become more of a delicacy. The jerky is made of 100 % reindeer meat with only salt added. The process is that the meat is dryed outside for a few weeks.