There is still the Polar night or kaamos in Lapland, but since December 21st the days are getting longer and longer; today more than 3 hours between sunrise and sunset already. You can check the length of the day on the weather forecast page.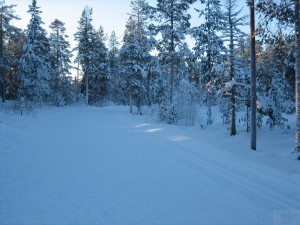 As the days are getting longer it means you can stay longer outdoors and for example go skiing. In Rovaniemi there are lighted ski tracks for cross-country skiing for those who do not have time to go skiing in daytime, but want to do it after work in the evenings. Here you can check where there are lighted tracks and also the conditions of the tracks before you leave for a ski tour. The page is only in Finnish, but you can see there are a lot of tracks all over Rovaniemi city and the best color is green. At the moment there are no green tracks, because of the last weeks' warm weather and the fact there has not been so much snow lately. But the color yellow is acceptable, too.
I went for a tour on the ice of a lake the other day. There was not much snow either, but enough for an enjoyable tour and I did not need any tracks at all. As my work is very hard for my arms at the moment I need to get some exercises to lose up my muscles in my upper-arms and that was exactly what a ski tour made for me! I felt like a new woman after that.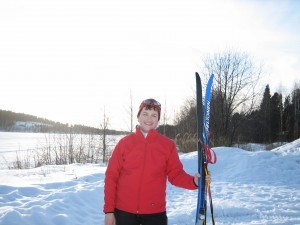 In Rovaniemi there is also the down-hill skiing and snowboarding possibilities at Ounasvaara hiihtokeskus with ski lifts and the ski jumping also for more experienced ski-jumpers. On the page you can check the conditions of the lifts and the slopes. There are also 45 km tracks for cross-country skiing on Ounasvaara hill.
At Ounasvaara hiihtokeskus there is also a ski rental, so you do not even need to have your own skiing equipment to go skiing. The selection of the rental equipment is wide and it is being regularly renewed, therefore there is always an excellent and modern ski equipment available. The selection has downhill -, cross-country – and Telemark skis, snowboards, snowshoes and sportswear.
It is also possible to check the Ounasvaara hiihtokeskus, the slopes and the view from the ski-jump tower over Rovaniemi from the web camera.