An Advent calendar is a special calendar used to count or celebrate the days to Christmas. Children of Germany, Finland and Sweden have their own advent calendars to count the days to Christmas. When they open a window they are one day closer to Christmas Eve. The days often overlap with the Christian season of Advent. Despite the name, most commercially available Advent calendars begin on December 1 with door number 1, regardless of when Advent begins, which can be as early as November 27 and as late as December 3. Door number 24 is to be opened on the morning of Christmas Eve on December 24th. .
This is the calendar I got, as a subscriber, from my daily paper, Lapin Kansa, the northern most daily newspaper. Their calender have pictures for all 24 days of Advent, but also a lottery number, and there are numbers that win something every day until Christmas. The numbers are published in the same day's paper.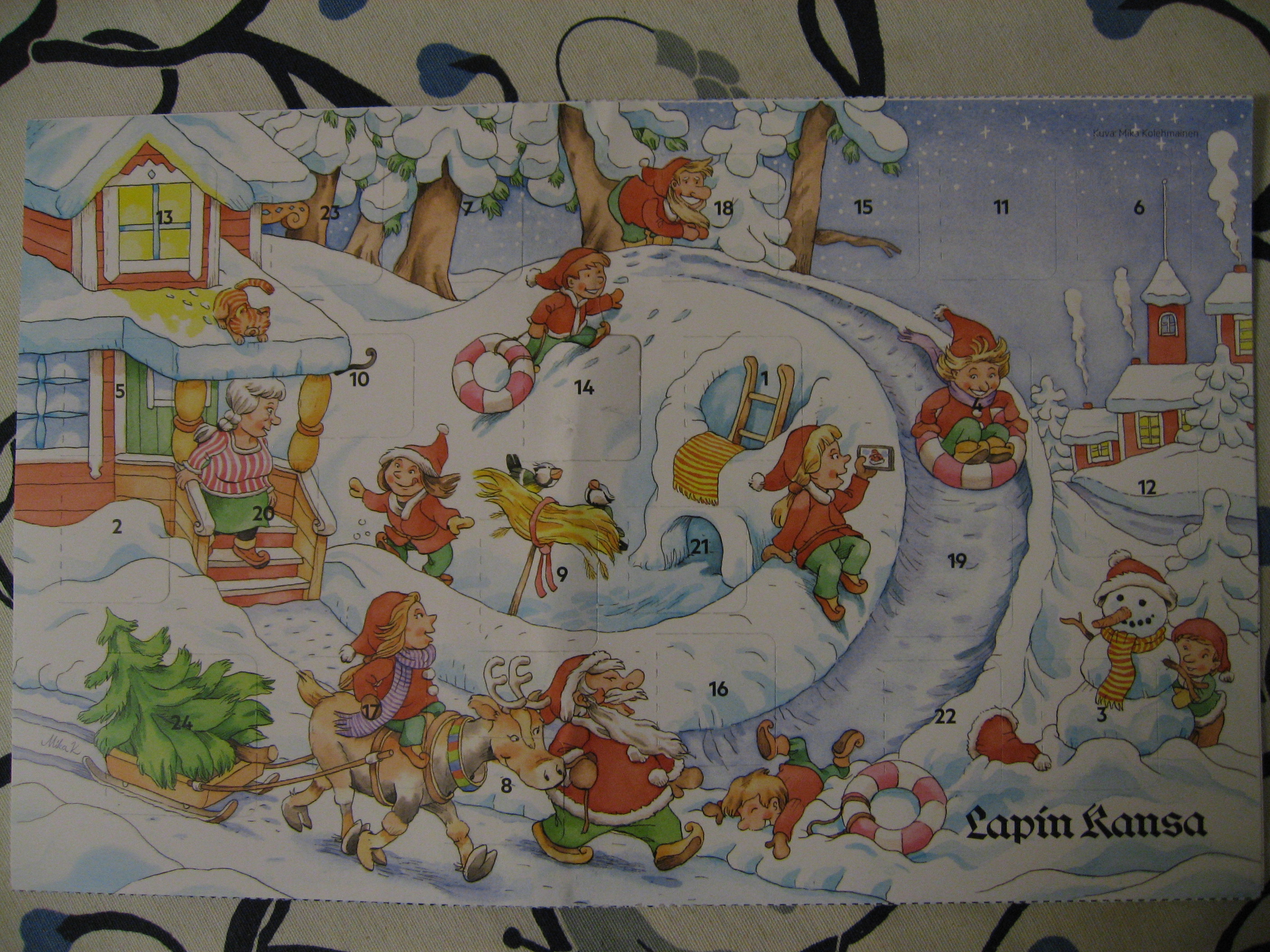 The origins of the Advent calendar come from German Lutherans who, at least as early as the beginning of the 19th century, would count down the first 24 days of December physically. Often this meant simply drawing a chalk line on the door each day, beginning on December 1.
The first known Advent calendar was handmade in 1851. According to the Lower Austrian Landesmuseum, the first printed Advent calendar was produced in Hamburg in 1902 by a protestant bookshop. Other authorities state that a Swabian parishioner, Gerhard Lang, was responsible for the first printed calendar, in 1908.
Lang was certainly the progenitor of today's calendar. He was a printer in the firm Reichhold & Lang of Munich who, in 1908, made 24 little colored pictures that could be affixed to a piece of cardboard. Several years later, he introduced a calendar with 24 little doors. He created and marketed at least 30 designs before his firm went out of business in the 1930s.
The practice disappeared during World War II, apparently to save paper. After the war, Richard Sellmer of Stuttgart resurrected the commercial Advent calendar and is responsible for its widespread popularity.
Many of the advent calendar take the form of a large rectangular card with "doors" of which there are usually 24: one for each day of December leading up to Christmas Eve on December 24th, where the 24th door often holds an extra surprise like an extra large picture. One is opened every day. The calendar doors open to reveal an image, poem, a portion of a story or a small gift, such as a toy or a chocolate item.
One very nice calendar I found in SantaPark. It is a train with 24 boxes on the vaggons to be filled with nice things.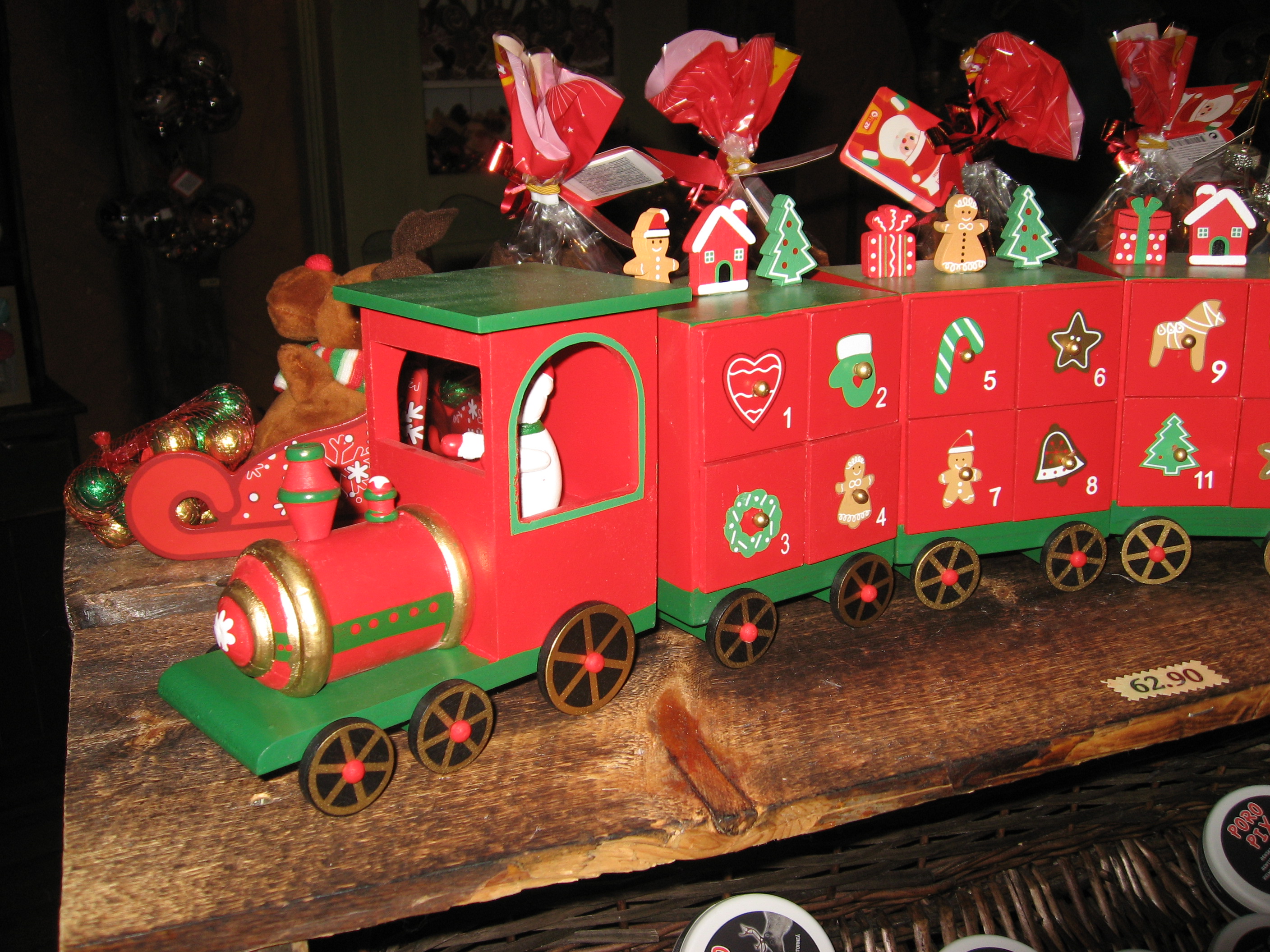 Advent calendars can also consist of cloth sheets with small pockets to be filled with candy or other small gift items. Many calendars have been adapted by merchandisers and manufacturers to include a piece of chocolate or other confectionery behind each compartment.
The Advent calendar is normally shaped like a large greeting card, but it can be found in other shapes, such as a three-dimensional model of a house or church.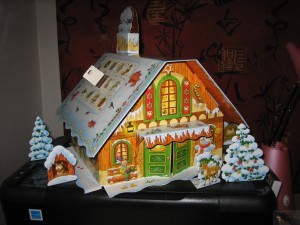 These days you can also find Advent Calendars on Internet. Rovaniemi city has its own Calendar on the Facebook site of Visit Rovaniemi, on the address:  https://www.facebook.com/VisitRovaniemi.fi you find a new picture and a message every day until Christmas.
Another nice Advent Calendar on Internet is this: http://www.positiivarit.fi/Christmas-Calendar . Here you can listen to Christmas music and read Christmas thoughts and poems everyday until Christmas.