On First of May we celebrate workers' day in Finland as in many other countries. It is also celebrated by students as their special day, mostly in University cities. Actually the Finnish "Vappu" is celebrated among students for almost a week's time. The students dress up in their overalls in different colors depending on at which faculty they are studying.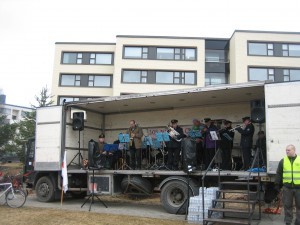 In Rovaniemi the main spring celebration among students takes place on the evening before First of May, on April 30th. There is a happening in the park near the lumberjack bridge, where there is a statue of a lumberjack working. The feast starts with some horn music and there are several speeches to the spring held by celebrities of Rovaniemi, such as the mayor's (Esko Lotvonen) speech.
After that starts the students' part of the feast. The audience is told to put their graduation caps on and a choir of students sings the "Gaudeamus Igitur". "Gaudeamus Igitur" ("So Let Us Rejoice") or just "Gaudeamus", is a popular academic song in many European countries, mainly sung or performed at university graduation ceremonies. Despite its use as a formal graduation hymn, it is a jocular composition that pokes fun at university life. All students at a university own a graduation cap they got at the graduation from the senior high school and people in the audience use to bring their old graduation caps and put them on together with the students at this occasion. This evening and on First of May is the only days during the year you may wear your white graduation cap.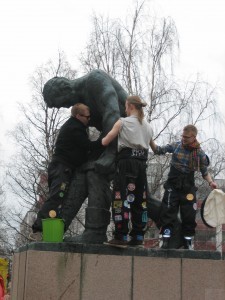 Then a couple of students climb up to the statue of the lumberjack and give him his yearly wash and finally they put a graduation cap on him, too. This is a special made graduation cap because of the big size of his head.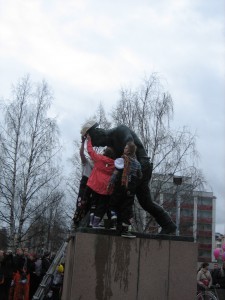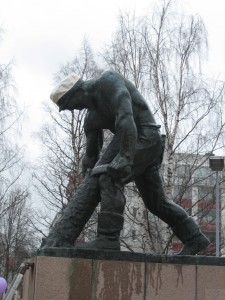 The feast ends with a traditional washing of this year's new student; "fuksukylpy". This bath is taken care of by the Fire Department and is merely compulsory for the new students to take part in. This is a very wet experience for them and it amuses the audience a lot to see these poor students getting all wet. I have to say, I do not understand why…. Some of them are very clever and take off all their clothes before entering into the beam of water from the fire department's pipes.
h&m