On hiking trips in the Lapland nature and especially along hiking routes you will find shelters or huts to use for resting, just for some hours or even to stay over night. There are huts which hikers can use for free, and others for which a fee is charged. You can look for maps and useful information about hiking here.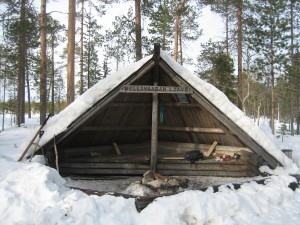 The most common and well-known type of free, open huts are the open wilderness huts. The wilderness huts are meant for one-night stays. They are usually located in the northern and eastern parts of Finland, usually in roadless backwoods. Other open huts include day trip huts, which are not meant for staying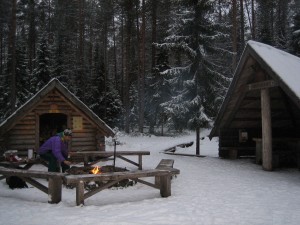 overnight. Also open turf huts, or campfire sites as you also can call them, and Lappish pole tents are suitable places to stop and rest during the day, but in exceptional circumstances they can give shelter for the night, too. The shelters and huts are managed by the Metsähallitus of Finland. Near the huts and shelters there is also firewood for free use by the hikers.
Reservable huts are locked, and a fee is charged for staying. By using reservable huts, the hiker can be sure to have somewhere to stay overnight. But then the hike must be planned in advance, and that is not always what the hikers want to do. There are of course also more equipped cottages to rent for more than one night's stay managed by the company Wild North. 
Many extensive areas of forest and open fell are owned by the State and managed by Metsähallitus, especially in Finnish Lapland. In the south, more forests are owned by local people. Finland's liberal laws of public access give everyone the right to roam the forests and countryside freely, no matter who owns the land.
I have spent many days in the Lappish forests and lakes and I have loved to explore different kinds of shelters. I, myself, have not yet stayed over night in any of these shelters, but I have heard other people doing it and they have loved it. In summer time of course there are the mosquitoes, gnats and horseflies bothering. That is not the case during winter, but I can think of a lot of reasons not to want to stay over night in a shelter during winter. But I could be wrong, I admit that. To be able to sleep outdoors in summer you have to use some kind of insect repellent or venom on your skin.
I have been surprised to find these shelters in so many different shapes. Some of them more architectonic with more constructions than others.
On my trips in Lapland I have also found shelters for cooking or just eating, made of inhabitants of Lapland without any connections to the Metsähallitus and their huts and shelters.
I must say the most fascinating hut I found was the one made of reindeer keepers long time ago for overnight stays. I felt the wind of ancient times blowing as I opened the door to the hut.