As many of my readers have searched for articles about shamanism and the shamanic drums, I have decided to write this post about shamanic drum therapy. The other day I heard about a friend who visits a therapist and get drum therapy. She finds the effects from the therapy really healing and energizing and who knows, I might try it myself one day.
Drum therapy is an ancient method that uses rhythm to promote healing and self-expression. From the shamans of Mongolia to the Minianka healers of West Africa as well as among the shamans of the Sámi people of Finland, Scandinavia and Russia, therapeutic rhythm techniques have been used for thousands of years to create and keep up physical, mental, and spiritual health. Still today drum therapy is used in Lapland by several therapists to cure different emotional problems and decreases.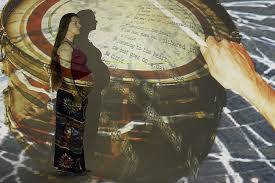 Current research is now verifying the therapeutic effects of ancient rhythm techniques. Recent research reviews show that drumming accelerates physical healing, boosts the immune system and produces feelings of well-being, a release of emotional trauma, and reintegration of self. The therapy session lasts for about 1,5 hour. This is not something you just run away on your lunch break and do. It requires you to really get the drumming into your systems to have the desired effect.
Other studies have demonstrated the calming, focusing, and healing effects of drumming on Alzheimer's patients, autistic children, emotionally disturbed teens, recovering addicts, trauma patients, and prison and homeless populations. Study results prove that drumming is a valuable treatment for stress, fatigue, anxiety, hypertension, asthma, chronic pain, arthritis, mental illness, migraines, cancer, multiple sclerosis, Parkinson's disease, stroke, paralysis, emotional disorders, and a lot of physical disabilities.
Drumming induces deep relaxation, lowers blood pressure and reduces stress. Stress according to current medical research contributes to nearly all disease and is a primary cause of such life-threatening illnesses as heart attacks, strokes and immune system breakdowns.
Chronic pain has a progressively draining effect on the quality of life. Researchers suggest that drumming serves as a distraction from pain and grief. Moreover, drumming promotes the production of endorphins and endogenous opiates, the bodies own morphine-like painkillers, and can thereby help in the control of pain.
The therapist Markku Backman in Finland has developed a shamanic energy treatment, which he calls Whizhealer therapy. Whizhealer therapy has influences from methods used by ancient shamanic and other nature people using the shamanic drum in treatment. Whizhealer treatment takes about 1,5 hours and is followed by a discussion for approx. 10-30 minutes. Markku Backman tells the therapy should be taken on three different sessions to have the best effect. As your energies start to flow they open obstructions and open your existing locks of emotions.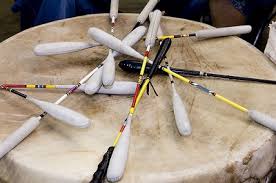 If you want to have a drum of your own you can take part in a drum building course and make your own shaman drum from reindeer skin and stick from antlers. You can also add important symbols to the skin. The link for drum making courses is unfortunately only in Finnish, but you can look at the pictures and get the idea how to make a drum of your own and take a look at the drum video to get an idea of how the drumming goes. I have also written about the symbols in my post http://grandma-in-lapland.com/the-lapish-shamans-drum. You can read more there.
If you decide to buy a drum or make one of your own the drum is never a shamanic drum before you have performed the inauguration ritual in the nature somewhere on a hill or fell. You lit four fire places around the area in all four directions, to the south, to the north, to the east and to the west, and walk slowly around the fire places and ask for the spirits to bless your drum. This ritual is thoroughly described on Thuleia's home page. Unfortunately only in Finnish, so far.
The shaman drum and their symbols are often used in manufacturing of souvenirs from Lapland. For example this bath towel I have bought from the Arctic circle. I love the colors and the symbols on it!