The last remainders of snow are melting at the moment and I am looking forward to the time when the nature paths dry and I can make spring excursions in the nature around Rovaniemi.
One of my favorite nature paths is the one at Ounasvaara hill. There are actually several possible routes to choose; they are between 3,8 and 4,4 km long. Along the paths you will find places to rest and there are several parts of the route along so called duckboards to keep your shoes dry when you walk across the swamps. You will also find a nice little well where you can taste absolutely clear water that comes out from the ground.
Along the route you find lots of useful information boards explaining to you about the kind of forests and swamps there are to be found in this part of Finland. You can also learn about the trees, the plants, the bedrock and the type of ground you find along the paths.
During the ice-age 115,000 to 10,000 years ago Finland was covered with ice as the rest of northern and central Europe. The continental ice sheet began to withdraw from the edge of southern Finland about 13,000 years ago. Melting of the ice began to accelerate around 11,000 years ago; Finland was free of ice about 10,000 years ago. You can see a place on Ounasvaara considered as the first shore line when the ice began to melt.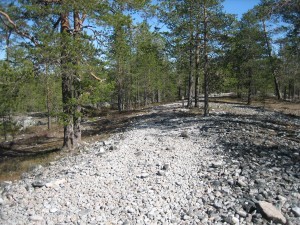 You can also walk the path up to the tower of the downhill slopes (for downhill skiing in winter) on the northern hill side of Ounasvaara and from there you will get a marvellous view over the city of Rovaniemi.
I think the nature paths are at their best in spring time after the snow has melted and there is only a little greening starting to show.
From this link with maps of Rovaniemi region you can search for the nature path (called airing routes) on Ounasvaara.