I have visited several ski resorts in Lapland. As I live in Rovaniemi at the moment it is easy to jump into the car and drive for some hours and reach the beautiful ski resorts in the winter time.
I visited Saariselkä in the beginning of January. It really happened to be the first sunny day of the year in Saariselkä. After the kaamos, the dark period of the year, the sun gets up again around January 8th in Saariselkä. At the top of Kaunispää, the highest peak in Saariselkä they say the sun gets up three times behind three different fells every day in January. The sun is at that time so low and only up for some hours. The slopes for downhill skiing are mostly used during the spring months March and April. On the top of Kaunispää there is the longest sleigh slope in Finland. It is 1200 m:s long and starts from the top and ends near the center of Saariselkä village. Saariselkä is a dream location for cross-country skiing enthusiasts with a bustling nightlife and plenty of shopping opportunities. Saariselkä is normally the first ski resort in Lapland to open its cross-country skiing trails and its treeless fell highlands provide magnificent settings for viewing the Northern Lights.
The distance from Rovaniemi to Saariselkä is 250 km and the distance from Saariselkä Airport is 27 km.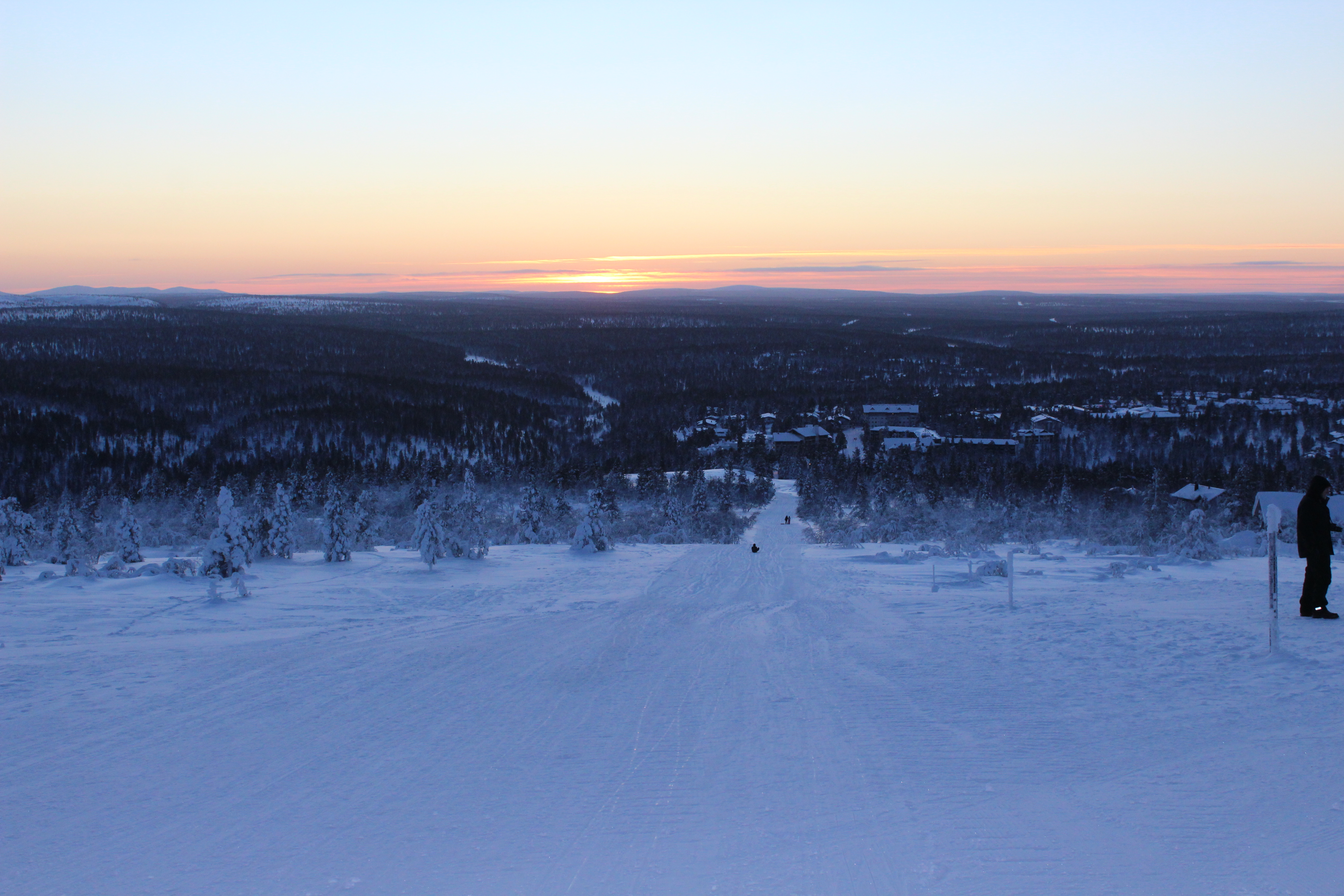 The ski resort of Saariselkä has captured my interest because of the open, treeless fells. The shopping is not that interesting in this resort.
The ski resort of Levi, about 160 km from Rovaniemi, is more like a little city even if it is only a small village. There is always plenty going on in Levi. Levi is Finland's  busiest ski resort. It offers not only snow fun, but also a superb nightlife. This pleasant alpine village is full of boutiques selling branded products intended for the whole family. In Levi is also one of Finland's largest spa. The distance from Levi to Kittilä airport is only 17 km.
Levi offers slopes for downhill skiing, but also many tracks for cross country skiing.
Every time I visit Levi I also want to go to the top of the fell. There is the restaurant Tuikku with a marwellous view over at least 5 fells in the west of Lapland. Tuikku is very popular among the downhill skiing people. It is a place where they take a break and something to drink. And the slopes bring you all the way down to the village center.