The Lumberjack theme is remarkable in Rovaniemi as the huge Lumberjack Candle Bridge rises high as it provides a possibility to cross the river between Ounasvaara on the eastern side of Kemijoki and the city center on the western side. The Lumberjack Candle Bridge is Finland's first cable-stayed bridge, finished in 1989. It has a tension span of 126 meters.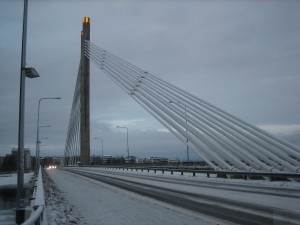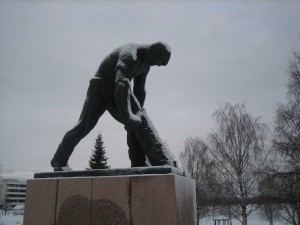 The name Lumberjack recalls the era of the log floating and it is a tribute to lumberjacks. A lumberjack was a forest worker working with untiring zeal and their lives were exceptionally hard. The era lasted for about 100 years and ended in the 1960ies. Before machined transportation became widespread timber was hauled from the forests to the saw mills and factories on the river by floating. This work was important to the people along the river for decades and had a great impact on the life of Rovaniemi city for decades. Near the Lumberjack Candle Bridge, in the Jätkänpuisto park, stands a statue of a lumberjack made of Kalervo Kallio (1909-1969) in 1955. This is an important statue for Rovaniemi and celebrations around Workers' Day on May 1st take place around this statue every year.
You can learn more about the hard conditions of the lumberjacks at the Forestry Museum of Lapland in Rovaniemi. The Forestry Museum of Lapland saves, researches, maintains and presents the cultural heritage of Lapland's forestry history. This is the only museum in the world that concentrates on fostering the history of forest work in Finnish Lapland.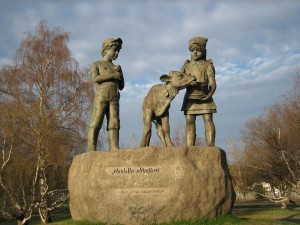 The public work "Milk, the Start to Life" made by Ensio Seppänen (1924-2008) in 1984 stands in the park on the eastern side of Kemijoki opposite to the city center of Rovaniemi. The statue was erected by Lapland Agricultural Center and it features historically accurate costumes and tools in a way typical of the artist.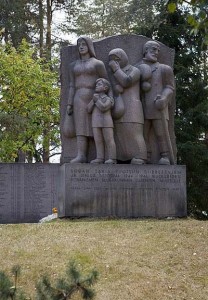 During the WWII in 1944 the population of Rovaniemi was evacuated to Sweden to be safe. Ensio Seppänen has also made the sculpture for the memorial of the evacuation. The sculpture standing on the first cemetery of Rovaniemi was erected in 1965 in honor of the 279 members of Rovaniemi church deceased in Sweden during the evacuation.